Now that the temperatures in New York are dropping below freezing, a jaunt to Tuscany is sounding quite lovely (not that it doesn't the rest of the year as well). I actually read A Vineyard in Tuscany a couple of years ago, but revisited it a few weeks ago and enjoyed it just as much as I had the first time. Ferenc Máté has also written several novels, so it comes as no surprise that his narrative is engaging and funny. The book tells the story of his family's venture into buying a ruined vineyard in Tuscany, and their first year of grape-growing.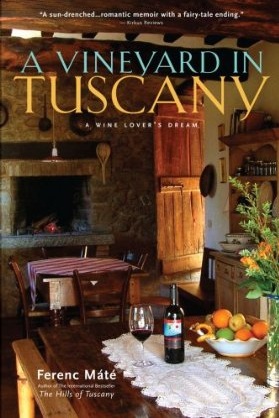 Máté is able to present his story in such a way that you want to be right there working in the field with him, not so that he comes off as pretentious and self-satisfied. You get to know his wife and son, as well as their eccentric neighbors in their small town. Of course, at the end of the book is a convenient list of their wines and where to buy them (which you can find here). I can't say that I have tried any, but it does seem that their vineyard sits on a prime lot in the midst of some of the best Tuscan vineyards. Overall, A Vineyard in Tuscany is an enjoyable romp through a life that sounds extremely enjoyable but also like a lot of work. I think that many people have a romantic sensibility in regards to vineyards (including me), but in his prose Máté doesn't gloss over the immense amount of works it takes to run a vineyard -- but he also doesn't leave out any of the wonderful parts either.
I will be posting more recipes soon, including some cakes and party food!